As a consistent and considered business founded on excellence and reputation, Verde is committed to delivering an elevated offering within the luxury residential sector.
 Our dedication to our clients is the driving force behind everything that we do, and it is through a cycle of feedback and development that we maintain and strengthen those key relationships. The willing testimonials from our clients add a voice to the process we are proud to have developed and allow a connection between our clients and the Classical, Contemporary and Modern homes we create.
We are committed to designing and building homes of outstanding and heightened value, intended to endure and remain timeless for many years to come. We believe that a quality, well-honed and crafted home is the foundation of a life lived well, setting the scene for the following chapters and elevating the lived condition. Through our integrated design and construction process, we are committed to ensuring every element and every facet of your home is carefully given due attention and delivered with a matched finesse.
Verde combines a solid portfolio of successfully delivered luxury homes together with lauded industry experience across design, construction and process management to ensure a consistent resolve. Our expertise ensures an integrated approach spanning building, interior, landscape and pool design with documentation, planning approvals and construction. Our passion for communication ensures a transparency across costings throughout and remaining on track with budget deliverables. We openly welcome new partnerships and new challenges, in continuing to work with those wanting a refined life.
Founded on an enduring and quality-led sensibility, each Verdé home is imagined as a forever home. 
Constructed from the highest quality materials and finishes, each space is intended to flow effortlessly into the next, and through moments of pause, an open graciousness is felt throughout. 
By bringing together those at the forefront of industry, our design leaders, thinkers and craftspeople are the undercurrent of all that we do. We are dedicated to harnessing the best out of our people, to ensure our clients live their best possible lives.
Andrew Reaper
Registered Building Practitioner. (DB-U.)Co-founder and Design Director
As a holistic design leader, Andrew (Drew) takes a wider and all-encompassing approach to his view on the world and how design sculpts it. Integrating a sustainable and environmental consciousness, he believes that future-led systems and designing with quality and timelessness are imperatives of successful architecture. Garnering his three decades of industry experience in boutique residential design and construction, he brings a deeply layered portfolio of experience to each Verdé home.
With a keen focus on understanding how buildings age over time and the integration of surrounding context, Drew brings a multi-layered interpretation. His emphasis on establishing a recognisable stylistic approach that captures the essence of function, form, scale and proportion is key to each Verdé home, and to understanding each client and creating an individual expression. His focus on experience and impact are integral to the team.
Jeffrey Pickering.
Registered Building Practitioner. (DB-U.)Co-founder and Construction Director
Inspired from a young age, Jeffrey (Jeff) is fascinated with the handmade and the potential of the human spirit. His continued engagement with hands-on techniques sees him as the ideal lead for the construction sector of Verdé. From the ambitious 16-year-old starting an apprenticeship in carpentry and joinery, through to successfully running his own building company at 19, his dedication to making and crafting the built world has only grown over time.
His fervent perfectionism is responsible for analysing and perfecting detailing on site and in the resolution of challenges with attuned patience and experience. Leading through innovation and integrating technical excellence on each home, his instinctive approach ensures exploration leads to enduring results. With excess of 34 years' experience, Jeff is a fully licenced registered builder and member of the HIA Master Builders Association and his continued relationships with clients are testament to his character.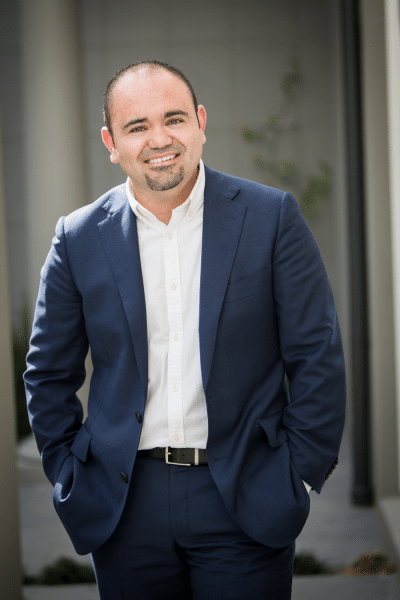 Carlos Hernández
Bachelor of Architecture. (B.Arch.)
Believing that architecture and the built world shapes our best living, Carlos brings a human-led approach. His focus on the creation of ideal environments as the incubus of nurturing, inspiration, comfort and celebration drives his work and the homes of Verdé. As a multi-disciplined designer, Carlos is inspired by his passion for the arts and engineering, and the balancing of the pragmatic and the creative.
A graduate and award winner of his RMIT program, Carlos has been exploring the intricate interconnections between the surrounding built world and improved living ever since. His collaborative approach in understanding and advocating for each client sees the fulfillment of a shared vision drives each of his designs and his processes. His constant engagement and interrogation of systems ensures intelligent solutions combine with speculative ingenuity.
Trades, Crafts and Artisans.
Curating a team of passionate makers and artisans, the ethos driving each Verdé home is quality. Through a close and extensive selection process, each of the contributing trades partners and craftspeople we work with share our values. Our own shared lineage is reflected in the family-led stonemasons, cabinetmakers and metal workers we engage, who have also shared and passed their skill through generations.
Processes and key quality control benchmarks are ingrained into our systems to ensure an expectation of high-quality excellence is achieved on site. Each person involved in the process of sculpting a Verdé home believes in the agreed mission that their work will resonate for many years and become the foundation for a well lived life.